The only thing constant whether in business or across industries is change. The same holds true when it comes to the Philippines' IT-BPM jobs where the majority is employed across call center jobs and other entry level work that could see itself eventually be phased out with the revolutionary force known as automation.
Automation is shaping businesses and commerce as we know it as progress in robotics and artificial intelligence are gaining sophistication under the design to replicate the traditional human operated tasks in business. Under this development, entry level jobs and other traditional service models are facing the probable future where big businesses will ultimately invest in automation to further downgrade operational cost and achieve a level of efficiency unprecedented when it comes to enterprise management.
Since the late 1980s, the Philippines has enjoyed a lofty status of being a top destination for outsourcing, offshoring and call centre services due to the workforce's linguistic capability and strong affinity to western English. The country also boasts of a high percentage of university educated workforce with lower capital for skilled substitution as required in outsourced roles.
Now, the country is bracing for a landscape change within big businesses, global commerce and the outsourcing industry as a whole with the advent of automation. Accounts that are under service models with Philippines based shared service centers are also facing the transition to automation as blockchain enabled technology are being adopted by accounts such as healthcare, banking, finance and insurance.
Automation will have a big effect in terms of the human capital investment and employment. "The biggest challenge is people,"said Jojo Uligan, the president of the Contact Center Association of the Philippines( CCAP ) as quoted by Bloomberg.
The arrival of chat bots and linguistic capable robots that is powered by machine learning is a threat to the country's BPO revenue in which call centers contribute much to the annual revenue.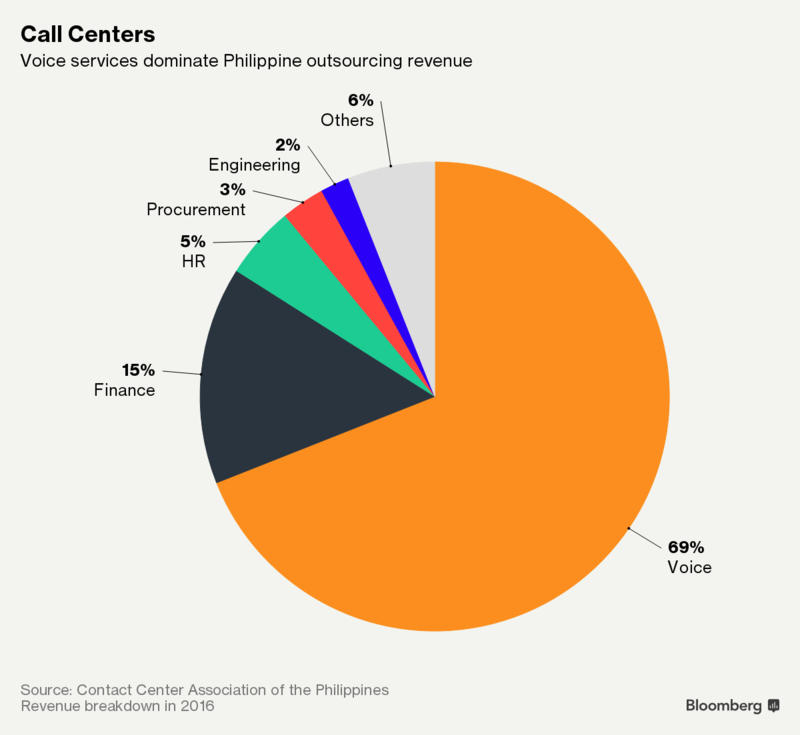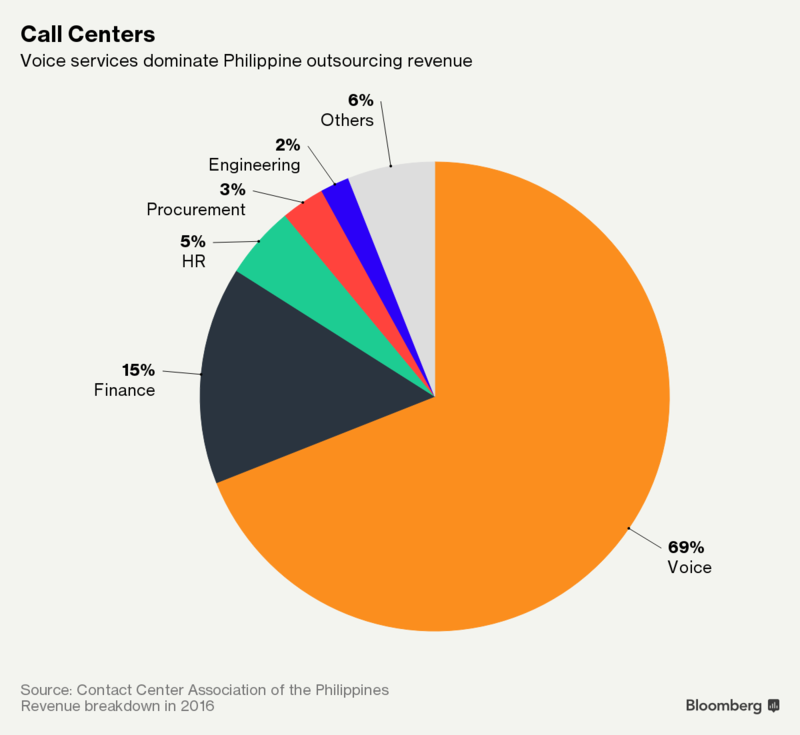 image source: Bloomberg via Contact Center Association of the Philippines
In order to future proof the country's BPO status as one of the global leaders, the CCAP and its stakeholders will be meeting once more this November to address automation and its disruptive chain of effect across BPO jobs sourced in the country.
"There is a lot of complex work now," Uligan said. "It's no longer mere directory assistance or taking orders," said Mr Uligan.
Despite the promise of automation, human capital is still needed to operate within the complexities of enterprise automation. This has a positive trickle effect where white collar jobs such as analyses, decision making and management are being transformed.
The BPO jobs of the future will shift from manual entry based level services to much more complex in nature as human intervention that interfaces artificial intelligence will be needed to operate the automated enterprise.
Ezy Outsourcing Hub is a gateway service when it comes to setting up outsourcing or offshore operations in the Philippines. We help businesses establish a facility to house operations with business grade network infrastructure to support global communications. To get started, call us today +63 917 5680402 and +63 917 5166897 or email contact@ezyoutsourcinghub.com
Ezy Outsourcing Hub
Philippines / International
+63 917 5680402
+63 917 5166897
Australia
+61 419 200 663
1300 77 88 62